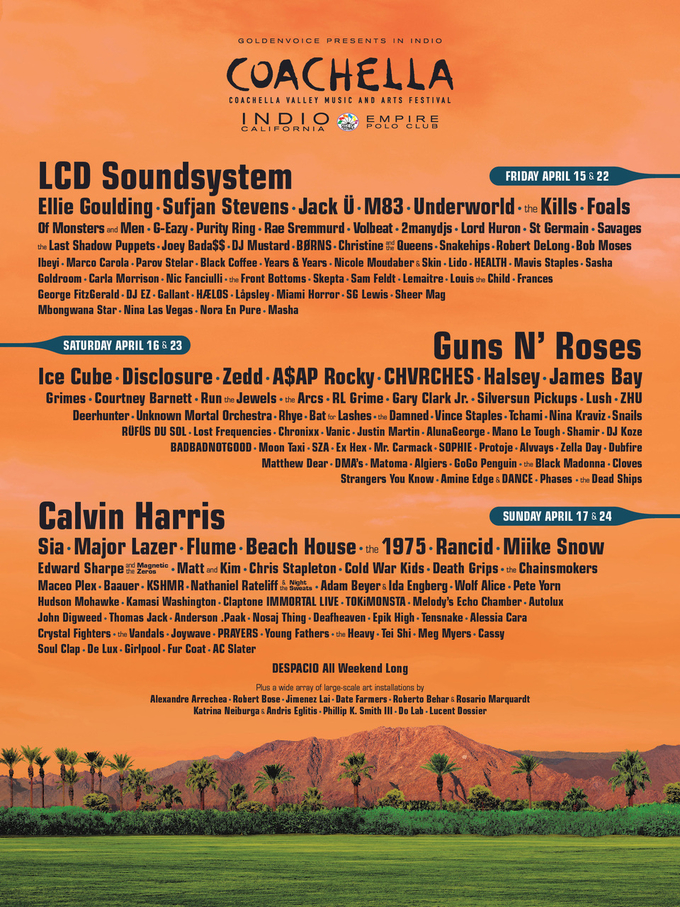 (Photo: Coachella.com)
Last week, the lineup for Coachella was announced, and for many rap and rock fans alike it was a collective primal scream. 2016 could be one of Coachella's best years yet, as Guns N' Roses (okay, well Axl and Slash) are reuniting for the first time in almost twenty years, along with LCD Soundsystem and a whole slew of newer awesome acts like A$AP Rocky and Ellie Goulding. For many of you, this may be your first Coachella, and for many more this may be your first festival altogether. Spoiler alert: festivals can suck. Like, really suck. It's camping with a soundtrack. That may sound enticing to some, but chances are if you're hanging out on Scotch Porter, you're meticulous about things like keeping a clean beard. Festivals are anything but clean. So since we love you, man, here is a survival guide for how to enter Coachella and leave unscathed.
A hotel
Don't believe the hype. Get a hotel. Don't get a tent. Get a hotel. Don't get a tent. Check out the prices here and here. There are shuttles to and from the festival, and you're better off getting a good night's sleep than pretending you're at Woodstock and practicing free love while some random guy vomits on your paper thin sleeping bag. Seriously: hotel. Think about it. If the prices are crazy, rent a house and a car. Everyone says that camping is the ultimate Coachella baptism, but if you're not planning on going every year, just be comfortable for crying out loud.
Cellphone powerpacks
Unless you're some established photographer looking to shoot for a publication or your own art gallery, chances are Coachella won't let you bring in your gigantic Nikon without a photo pass. Therefore, your phone is the way to go. Since you're in the middle of nowhere, it's best to pack a few powerpacks for your phone. Charging stations are around, but those crowds are scarier than the Main Stage audience.
Fanny pack
Okay, okay, welcome to 1989, but a backpack will only cause you unnecessary drama at security. Bring a small pack and in it have some sunscreen, wet wipes, a few granola bars (if they allow it), hand sanitizer, tissues (since the portable bathrooms may run out of T.P.), a plastic poncho, ear plugs, and money for food and drinks. Your giant bottle of water won't make it past the festival gates and neither will that bottle of Ciroc. Bring money and pay for your good time there.
Sunglasses
Shades are essential in the desert. You're standing outside all day long and need something to protect you from being blinded by the rays. Grab a cheap pair though, since they may not make it out of Coachella alive.
T-shirt and Shorts
Don't be that guy in jeans, because then you'll be that guy with heat exhaustion. End of story.
Empty bottle
This is key for the water stations where you can fill up your own bottles for free once you gain entry access. Grab one of those bottles with a clip, so you can keep it on your belt loop and not have to carry it around. And this goes without saying: STAY HYDRATED.
Sweatshirt
The desert gets cold at night, duh. Pick a hoodie with pockets, to hold extra items and the hood is good for the rain (if it ever comes, because #desert).
Bandana
This is the best way to soak up all of the sweat and the tears when your favorite artist is on stage. You can also wet it at the water station to cool off once the sun starts beating down.
Apps on apps on apps
Find every applicable app under the sun (pun intended) for Coachella. There's a Coachella app, along with other apps for cabs and weather. Also, keep all vital information (cabs, hotel info, etc.) on a sheet of paper too just in case your phone dies.
Spare pair of cheap socks
In the event of rain, you might need to dry your feet with new socks. Stuff those in your fanny pack too.
Good luck!