Words: Tyrus Townsend
Photos courtesy of CITI MEDINA
Part of being a well-dressed man includes maintaining well-groomed facial hair, and CITI MEDINA is one groomed gent. As Creative Director of MEDINA = CITI Design Haus and Sharespace = SPACE, New Jersey's Native Son (by way of Brooklyn) is constantly on the move.
From attending meetings to black tie galas and (his all-time favorite place) the gym, CITI MEDINA makes sure one thing is for certain: his beard is always neatly trimmed, moisturized and coifed. A world citizen, who travels constantly and adores swanky hotels, his passport may boast as many stamps as Karl Lagerfeld, Kanye West or even Tom Ford. Get to know our Scotch Porter Man Of September.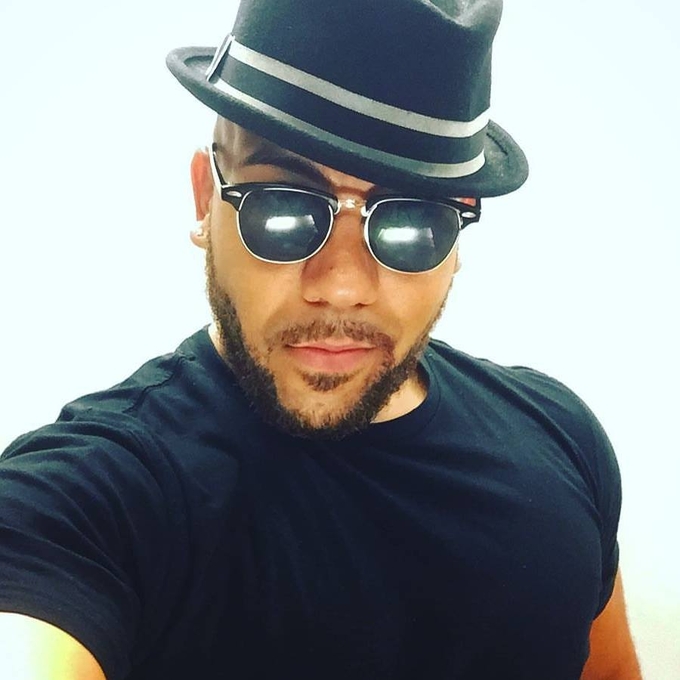 Name: CITI MEDINA
Age: 35
Location: Newark, NJ
Occupation: Creative Director
Hobbies/Interests: Art, Boxing, Cuisine, Travel
Current favorite gadget: My current fave is my Apple Watch, which is very convenient and keeps me up to date on my mobility.
Current favorite travel destination: Currently obsessing over Italy. It is in my docket to travel there this winter. Cuba is also an obsession.
Favorite restaurant:
NYC: Houndstooth Pub
Philly: MiXTO
Newark: Alva in Hotel Indigo
Favorite Fashion Designer: Olivier Rousteing
Favorite Graphic Designer: Milton Glasser and David Carson
Favorite Writer/Producer: Shonda Rhimes
Favorite Creative Director: Grace Coddington of U.S. Vogue
Favorite Artist (Music): Frank Ocean and Emeli Sande
Favorite Piece Of Art: La Pieta, David Antonio Cruz
Favorite Book: The Count of Monte Cristo by Alexandre Dumas
A song that describes your life: "Fist Fighting a Sandstorm" by Sia
Fall Trend(s):
• Obsessing over layered looks, button downs with chunky cardigans and a heavy coat. If I am dressing up or meeting clients, my looks tend to be very traditional with one modern twist—be it an accessory or a shock of color.
• Also mixing athletic wear into my everyday look: the comfort, attention to detail and movement that is athletic gear speaks to my lifestyle.
• Another trend Fall brings for me is hats, hats and hats! I am a bald man, and I need the coverage of a good chapeau.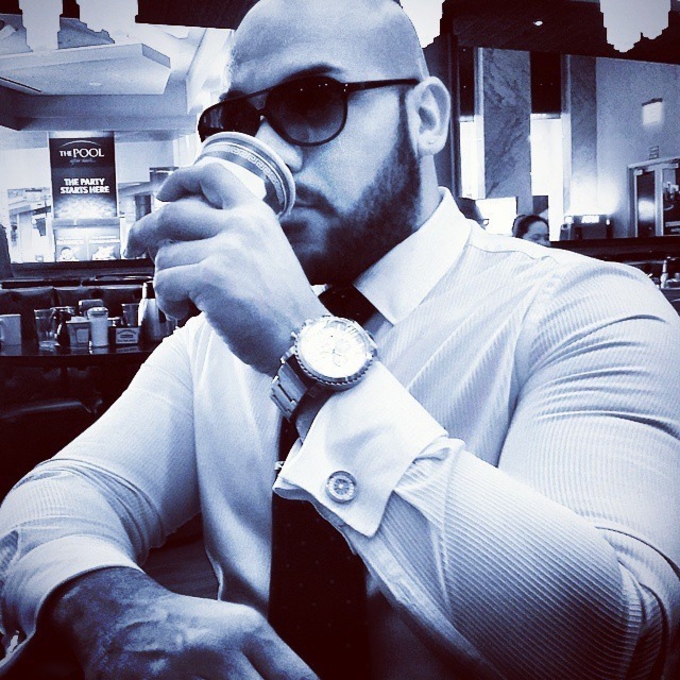 THE ROUTINE
5AM: My day starts. It involves meditating for 10 – 15mins, if I'm lucky. Then the lights come on and I stretch and read through my emails, Facebook, Twitter, Snapchat and Instagram posts. I then put on my workout gear—that can vary from a well put together Nike look to a torn tank and thrashed sweats.
6AM: I am eating a small bowl of cereal and chugging a pre-workout supplement for my two-hour training circuit.
8:30AM: Answering emails while walking through the streets of Newark and reviewing my schedule and team assignments for my two companies: MEDINA = CITI Design Haus and my Sharespace = SPACE. I Slack everyone their assignments, project questions, and meetings we need to have. Also, big thoughts of the morning: "What am I wearing" and "Who am I today?" My schedule and mood dictates what the visual will look like, and it varies widely.
10:00AM: I am in the studio designing with my team for clients, most recently the amazing New York Times Best Seller Self Made by Nely Galán. Also working on media strategies for the Jersey City LGBT Pride festival and a portrait series for Decotiis Law.
Noon: I am eating while walking through the office and joking with my camp. If I do not laugh more than anything, I am not doing something right. The dream in owning my companies was to create a culture of amazing talent and open atmosphere. 8 years later, I'm proud to have that.
2PM: I run over to my newly opened Sharespace = SPACE, and work on programming for our people, talking over any new ideas and generally speaking to everyone I can, over coffee and tea [We have a coffee bar inside and I personally become the barista for all the co-working members.]
5PM: On NJ transit into NYC to train again with my boxing coach Santana [of Moving Target], That's a two-hour intense session of making me sweat, hurling fists at my body and me checking my pulse.
8PM: Back home to Newark for dinner, a book and of course maybe, for the 100th time, I will check to make sure my beard is correct. I smile talking about my routine because it's the life I've always wanted: to work for myself, to control my destiny, and ultimately to be who I want to be. Wouldn't trade it for the world.
What is your daily beard regimen: I usually use a beard comb to make sure it is not tangled, then work in a balm with my hands. The rest of the day, I'm usually playing and tugging at it while I think.
How long have you been growing your beard: Just over a month.
Going from bare-faced to bearded, what was your biggest adjustment: The biggest adjustment is making sure I am very tailored and minimal in the rest of my visual and making sure I appear neat. I work in a visual industry, and so the choices you make really send a message to everyone. Also, people noticing the mixture of hair color in my beard. Given that I shave my head bald, I think no one noticed that there is a mixture of blondes and browns in my beard. So when it is remarked on it is always unexpected.
To any men looking to grow a beard, what's your best tip: I would say be prepared for some awkward moments where your beard is a bit unkempt and/or patchy. I know I have a cleft in my chin, and it took a bit of length to cover where there isn't as dense a growing of hair. After the awkward, be proud of it!
Your favorite quote: "Life is a storm, my young friend. You will bask in the sunlight one moment, be shattered on the rocks the next. What makes you a man is what you do when that storm comes. You must look into that storm and shout as you did in Rome. Do your worst, for I will do mine! Then the fates will know you as we know you"
― Alexandre Dumas, The Count of Monte Cristo
Your Favorite Motto: Know thyself.
Follow CITI MEDINA's adventures on Instagram @citimedina.